Getting to the Ballpark
The Adelaide Bite, proudly presented by SA Power Networks, have made the move down to Adelaide Shores Baseball Complex at West Beach. The stadium address is Lot 2, Barratt Reserve, West Beach Road, West Beach, 5024.
If you plug in 'Adelaide Bite Baseball Club' into your GPS you'll be able to find it. Below is information on how to get there by various forms of transport,and where to park. Please note parking IS FREE!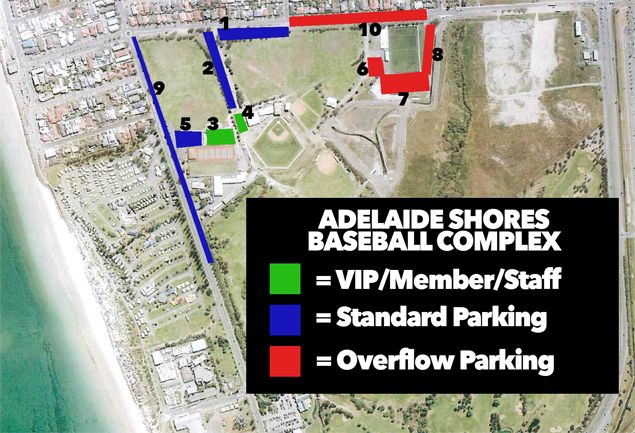 By Car
Getting to the facility on West Beach Road is easy. Make your way to Tapley's Hill Road. West Beach Road is just across from Harbourtown. At the Harbourtown intersection make sure you head West towards the water down West Beach Road. We are about 1km down the road, on the left off a long driveway.
From the City: Head West on Sir Donald Bradman Drive. At Tapley's Hill Road head south and turn right on to West Beach Road. We are just before the round about.
By Tram
Option 1: Catch the Tramline to Glenelg. Catch either the J3 bus (city) or 300 bus (Arndale) and get off at West Beach Road.
By Bus
From the City: Catch the J3 Bus from Currie street towards Glenelg. There is a bus stop on West Beach road directly across from Barratt Reserve, the home of the Bite.
From Glenelg:
Catch the J3 Bus from Jetty Road towards the city. Get off at West Beach Road directly across from Barratt Reserve.
Catch the 300 Bus towards Arndale from Jetty Road. The bus stops at Miami Avenue and West Beach Road, just across from Barratt Reserve
From Norwood:
Catch the H22 Bus towards Henley Beach South. Get off on Military Road. It is a 5-10 minute walk from Military road stop to the facility at Barrat Reserve